How it Works
Login to Clip digital coupons or download the MORE Rewards mobile app
(available on iOS and Android)
Shop for qualifying products.


TIP: While shopping, you can confirm if an item qualifies for the coupon by using your smart phone. Find Coupons in the MORE Rewards mobile app, tap any coupon, then tap Confirm Sale Item to scan the barcode of the product.

Enter your MORE Rewards phone number at checkout to receive your instant savings! Savings will be displayed on your receipt.
Track Your Progress!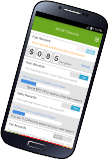 Login or download the app to clip digital coupons now
Download the more Rewards app to track your progress on the go!