How it Works
Purchase SIX cups of coffee from our beverage bar and receive your 7th FREE.
Available in select locations. See list of locations below.
Login here to track your MORE Coffee Rewards progress.
Available in Select Locations
Coborn's Albertville
Coborn's Belle Plaine
Coborn's Big Lake
Coborn's Clearwater
Coborn's Foley
Coborn's Glencoe
Coborn's Hastings
Coborn's Huron
Coborn's Long Prairie
Coborn's Mitchell
Coborn's New Prague
Coborn's Pipestone
Coborn's Princeton
Coborn's Ramsey
Coborn's St. Cloud - Cooper Ave.
Coborn's Sartell - Pine Cone Rd.
Cash Wise Bismarck
Cash Wise North Bismarck
Cash Wise Fargo
Cash Wise South Fargo
Cash Wise West Fargo
Cash Wise Willmar
Track Your Progress!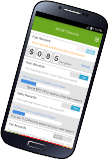 We make it easy to see how many cups of coffee you've purchased. Simply login to your more Rewards account.
Download the more Rewards app to track your progress on the go!