How it Works
Purchase qualifying items at your local Coborn's or Marketplace Foods Stores. Ham Rewards are not applicable at Cash Wise. For each dollar you've spent on qualifying items* beginning Sunday March 6th throught April 17th, 2022, you have collected 1 Ham Point.
After you collect 600 Ham Points a Ham Reward will be added to your more Rewards account and a notification will print on the bottom of your receipt. Login here to see your Ham Reward progress.
Once you've earned your Ham Reward, go to the Meat Department and choose your Four Brothers Bone-In Half Ham. You have until April 23, 2022 to redeem all earned Four Brothers Bone-In Half Ham at Coborn's or Marketplace Foods.
At checkout, your Ham will be scanned and the Ham Reward will be deducted from your MORE Rewards account automatically.
Conditions
*As per state law, tobacco, lottery/lotto and alcoholic beverages CANNOT be included in your collection for Ham Rewards. Also, petroleum, gift cards, check fees, postage, money orders and sales tax cannot be included to collect Ham Rewards.
Track Your Progress!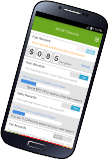 We make it easy to see how many Ham Points you've collected. Simply login to your more Rewards account.
Download the more Rewards app to track your progress on the go!