How it Works
Log into moreRewards.com or the MORE Rewards mobile app to designate your preferred school or childcare facility.
Shop Coborn's, Cash Wise, and Marketplace Foods stores for our store brands (Food Club, Full Circle, Top Care, @ease, Paws, Tippy Toes, and more!) to earn points for your school. There are more than 3,000 qualifying items!
Coborn's, Inc. is committed to donating $150,000 to local entities during the 2021-2022 school year. The points your school earns will help grow their share of the $150,000 total. It's like a pie - the size of your school's slice will depend on how many points they have received. Schools should encourage their supporters to register for their location at moreRewards.com.
Frequently Asked Questions
School Rewards Form
Registration for the 2021-2022 school year is now closed. Please check back in August 2022 to enroll for the 2022-2023 school year.
---
Track Your Progress!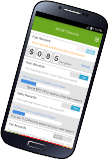 We make it easy to see how many School Rewards you've collected. Simply login to your more Rewards account.
Download the more Rewards app to track your progress on the go!
School Rewards Promotion Kit: