How it Works
Shop at Coborn's and Marketplace Foods from February 19th – April 2nd. For every $25 you spend*, you'll earn $1 in MORE Spring Holiday Rewards.
From April 3rd – 29th, log on to moreRewards.com or the MORE Mobile App to claim your Rewards.
On your next visit, your Rewards will be automatically applied!
Conditions
*Transaction must be at least $25 to earn Rewards. Excludes tobacco, lottery, pharmacy, alcoholic beverages, petroleum (fuel), gift cards, check fees, money order, stamps, and sales tax.
Spring Holiday Rewards Videos
Track Your Progress!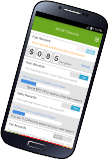 We make it easy to see how much MORE Spring Holiday Rewards you've earned. Simply login to your more Rewards account.
Download the more Rewards app to track your progress on the go!
Frequently Asked Questions